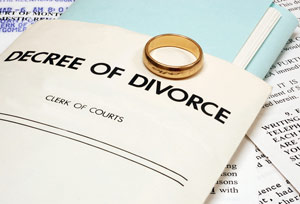 We have written about the difficulty married same sex couples can face in finding a court to grant a divorce when they live in a state that does not recognize their marriage.
In addition to the Texas cases discussed previously, now Lauren Beth Czekala-Chatham has filed a divorce complaint in Mississippi chancery court, effectively asking "one of the America's most conservative states to recognize her same-sex marriage," at least with respect to dissolving it.
As Politico puts it:
Depending on a couple's circumstances, a host of weighty matters can be affected by the inability to divorce — division of property, child custody, health coverage for a spouse, the ability to get remarried. In some cases, the inability to divorce could mean that an estranged spouse would continue to receive spousal benefits even though the other partner wanted those benefits halted so he or she could move on to a new relationship.
(For same sex couple clients we often recommend executing certain legal documents that attempt to memorialize their intentions and relationship. These documents and their contents might be recognized in states that do not recognize the couple's marriage.)
Ms. Czekala-Chatham and Dana Ann Melancon married in California in 2008, but lived together in Mississippi until separating in 2010.
As the New York Times writes:
Ms. Czekala-Chatham potentially could pursue a divorce in California, which exempts same-sex couple from divorce laws that generally require at least one spouse to be a resident of the state for six months. But the state might not be able to issue rulings on matters like property ownership, debt, alimony or children.
Although California is unable to rule on financial and familial issues integral to most divorces, at least out-of-state same sex couples who marry there are able to find jurisdiction in the state without establishing California residency.  Unlike California, many marriage equality states are unable to grant a divorce for non-residents.  As a result, often couples in non-recognition states would have to move back to the state where they were married and establish residency in order to get divorced — an option that can be complicated or even unworkable in many cases.
For example, pursuant to Conn. Gen. Stat. § 46b-44, Connecticut courts have subject matter jurisdiction over divorce actions when (1) one of the parties has been a resident of the state of Connecticut for at least twelve months, or if (2) one party was domiciled here at the time of the marriage and returned to the state with the intention of remaining permanently prior to commencing the dissolution action, or (2) the cause of the dissolution arose after either party moved into the state.   (As a general matter, where jurisdiction is based on residence, an action can be commenced immediately upon becoming a resident of the state, and the required twelve-month period need only be established at the time of the final judgment.)
Even as the number of states legalizing same-sex marriage will soon grow to 16, most states — like Mississippi — refuse to recognize such unions or to help dissolve them. Gay couples who move to those states after marrying elsewhere face roadblocks if they wish to divorce, as do couples from those states who make a brief foray out-of-state to get married.
As in Texas, the Mississippi Attorney General's office has intervened, arguing for dismissal of Ms. Czekala-Chatham's petition, writing that Mississippi "has no obligation to give effect to California laws that are contrary to Mississippi's expressly stated public policy," and "that legitimate policy choice precludes recognition of other States' same sex marriages for any reason, including granting a divorce."
Mississippi has a 2004 constitutional marriage ban approved by 86% of voters, and a 1997 state statute declaring that same sex marriage "is prohibited and null and void from the beginning. Any marriage between persons of the same gender that is valid in another jurisdiction does not constitute a legal or valid marriage in Mississippi."
Given Mississippi law's clarity on the issue, it is unlikely that the Mississippi court will grant Ms. Czekala-Chatham's divorce.
Apart from the state not recognizing the parties' same sex marriage, Mississippi family attorney Matthew Thompson points out there are additional issues specific to how Ms. Czekala-Chatham plead her grounds for divorce that also make it unlikely the court will order the dissolution of marriage.  Typically, when divorces are filed, the plaintiff needs to state the "grounds" that are the basis for the request for the divorce.   Grounds for divorce are often either "for fault" or "no fault."  In Connecticut for example, some examples of "for fault" grounds are adultery, fraudulent contract, or intolerable cruelty.  Connecticut's grounds for a "no fault" divorce are that the "marriage has broken down irretrievably."
Although "Mississippi is not a true no fault" divorce state, it will grant divorces based upon the grounds of "irreconcilable differences," which would theoretically eliminate the grounds issues in Ms. Czekala-Chatham's action pointed out by Attorney Thompson.  That said, according again to Attorney Thompson, in Mississippi "both parties must agree to the divorce and to all the terms of the divorce, including ALL issues of child custody, child support, equitable distribution . . . and alimony, if any.  Every issue has to be agreed upon to gain an [irreconcilable differences] divorce."
If Ms. Czekala-Chatham and Ms. Melancon are unable to agree upon all issues, Ms. Czekala-Chatham would not have been able to file an action based on irreconcilable differences.  That is why she likely filed based upon "for fault" grounds, resulting in the two potential additional obstacles to the divorce pointed out by Attorney Thompson.
First, in a legal issue unrelated to the fact that the litigants are a same sex couple, Attorney Thompson writes:
The Mississippian sued her spouse on Habitual Cruel and Inhuman Treatment.  The parties had been separated for over 3 years by the time of filing which may be an indicator of limited grounds regarding cruelty, which is one of the most difficult grounds to prove.  So there may not be a divorce on cruelty anyway, as the plaintiff could not meet her burden of proof.
Second, in a legal issue potentially related to the fact that the parties to the divorce action are lesbian or bisexual:
The Mississippian sued her spouse for Adultery.  Adultery, in Mississippi, is defined as "sexual intercourse with a person of the opposite sex, not your spouse." Despite this being the Bible Belt, it is possible that Mrs. Defendant is in another relationship with another person, of her same sex, and is still not committing "adultery." Technically speaking, of course.
It seems that in addition to the major difficulties accessing a divorce because their marriage is same sex, residents of some non-recognition states, like Mississippi, can have additional hurdles based upon how their personal circumstances intersect with state divorce and even adultery statutes.
Ms. Czekala-Chatham's lawyer, Wesley Hisaw, does make some interesting arguments on behalf of his client as to why the Mississippi court should order the divorce, in addition to citing the United States Supreme Court's ruling in Windsor — which held that restricting the federal interpretation "marriage" and "spouse" as contained in Section 3 of the Defense of Marriage Act ("DOMA") to apply only to heterosexual unions is unconstitutional under the Due Process Clause of the Fifth Amendment — Attorney Hisaw also argues "that bigamous and incestuous marriages are considered "void" in Mississippi, just like same-sex marriages, but bigamy and incest are also grounds for divorce."
In his arguments he contends:
There can be no legitimate state purpose in allowing bigamous or incestuous couples to divorce and not allowing the same remedy to same-sex couples.
Regardless the outcome in Mississippi, we anticipate the inability of legally married same sex couples living in states that do not recognize their marriages will continue to be source of trouble, and lawsuits, in non-recognition states.  A similar case was just filed in Kentucky, where two women married in Massachusetts are seeking a divorce.
That said, "at least one same-sex couple has been able to get a divorce" in a state that doesn't officially recognize same-sex unions. In 2011, the Wyoming Supreme Court ruled that two women married in Canada could get a divorce in the state, reversing a ruling by a district judge." The Wyoming Supreme Court was careful to clarify that their ruling with respect to the divorce should not be viewed as a step towards full recognition of same sex marriages legally performed in other states, writing:
Nothing in this opinion should be taken as applying to the recognition of same-sex marriages legally solemnized in a foreign jurisdiction in any context other than divorce.  The question of recognition of such same-sex marriages for any other reason, being not properly before us, is left for another day.
UPDATE:  On December 2, 2013, Desoto County Chancery Judge Mitchell Lundy, as expected, ruled against granting the divorce.  According to the Plaintiff, Ms. Czekala-Chatham, and her attorney, Wesley Hisaw, Judge Lundy indicated he reached his decision "because the marriage wasn't recognized under state law."  Attorney Hisaw commented Judge Lundy said he felt that "his hands were tied" by Mississippi law.  The Associated Press quotes Ms. Czekala-Chatham as saying "she was 'a little bit disappointed, and 'would have liked to have had the divorce, but either way he ruled, it was going to be appealed.'"  We will watch this appeal with interest, and thank Gideon from A Public Defender for pointing us to this update.