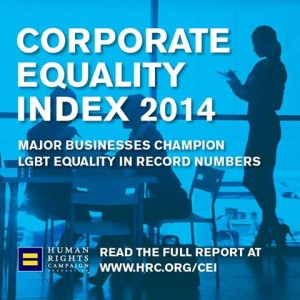 Last week we discussed how Connecticut cities fared in the Human Rights Campaign's 2013 Municipal Equality Index.  This week, the Human Rights Campaign released its 12th annual Corporate Equality Index.
So how did Connecticut-based companies do this year?
The HRC Foundation Corporate Equality Index criteria serve as a road map for major U.S. businesses' adoption of inclusive policies, practices and benefits for LGBT employees.  Launched in 2002, the CEI is the nationally recognized benchmarking report for businesses to gauge their level of LGBT workplace inclusion against competitors.
The Fortune 500 list of the largest publicly traded companies has been invited to participate in the CEI since its 2002 inception, and the Fortune 1000 list has been invited for the last eight years.
Hartford's Aetna Inc., The Hartford Financial Services Group, Inc., and United Technologies Corp.; Ridgefield's Boehringer Ingelheim USA Corp.; Bloomfield's CIGNA Corp.; Norwalk's Diageo North America and Xerox Corp.; Fairfield's General Electric Co.; and Stamford's Starwood Hotels and Resorts Worldwide and UBS AG all received perfect ratings of 100%.
Aetna, Boehringer, Cigna, Diageo, The Hartford, Starwood, UBS, UTC, Xerox scored 100s last year as well.  GE jumped from 75% to 100% this year.
Hartford-based Day Pitney LLP and Norwalk-based FactSet Research Systems Inc. were included for the first time this year, and both scored an 80% in their inaugural efforts.
Stamford's RBS Securities Inc. scored a 75% for the second year in a row.   Hartford's Northeast Utilities scored a 30% for the second year in a row.
Unfortunately, not all Connecticut companies were as successful.  Danbury's Praxair scored a 50% for the second year in a row, and Stamford's Pitney Bowes Inc. scored a 35% for the second year in a row.
Five Connecticut-based Fortune 500 companies did not respond to the HRC's "to repeated invitations to the CEI survey."  The HRC compiles unofficial ratings for these companies "based on publicly available information as well as information submitted to HRC from unofficial LGBT employee groups or individual employees."
The Connecticut companies who declined to participate are: Norwalk's EMCOR Group Inc (unofficially scoring a 15% both this year and last), Stamford's Frontier Communications (unofficially scoring a 15% this year, and not rated last year), New Britain's Stanley Black & Decker, Inc. (unofficially scoring a 25% both this year and last), Westport's Terex Corp. (unofficially scoring a 45% both this year and last), and Greenwich's W.R. Berkley (unofficially scoring a 15% this year, and a 0% last year).