What was so special about Tax Day for some married couples?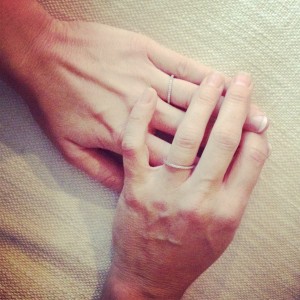 Yesterday, the final day to file 2013 tax returns without an extension, thousands of legally married same sex couples filed federal income tax returns using either the "married filing jointly" or "married filing separately" filing status for the very first time.
This is because, following the Supreme Court's June, 2014 decision in Windsor, the IRS and the Treasury Department ruled that same-sex couples, legally married in jurisdictions that recognize their marriages, will be treated as married for federal tax purposes. The ruling applies regardless of whether or not the couple lives in a jurisdiction that recognizes marriages of same-sex couples.
Any same-sex marriage legally entered into in one of the 50 states, the District of Columbia, a U.S. territory, or a foreign country are covered by the ruling. That said, the rulings do not apply to registered domestic partnerships, civil unions, or similar formal relationships recognized under state law.
What all this means is that legally married same sex couples will be treated as married for all federal tax purposes, including income, gift,  and estate taxes. This applies to all federal tax provisions where marriage is a factor, including filing status, claiming personal and dependency exemptions, taking the standard deduction, employee benefits, contributing to an IRA, and claiming the earned income tax credit or child tax credit.
But what about prior tax years?
Individuals who were in same sex marriages may, but are not required to, file original or amended returns choosing to be treated as married for federal tax purposes for one or more prior tax years still open under the statute of limitations.  In other words, if filing an amended return for a prior year would benefit a couple financially, they can choose to do so.  If it would not benefit them financially, they are not required to do so.
The ability to amend prior years tax returns could have significant positive financial benefits to same sex married couples.  For example, according to an analysis by H&R Block, prior to the Windsor decision same sex couples could pay as much as $6,000 more a year than married opposite sex couples.
Generally, the statute of limitations for filing a refund claim is three years from the date the return was filed or two years from the date the tax was paid, whichever is later. Some taxpayers may have special circumstances (such as signing an agreement with the IRS to keep the statute of limitations open) that permit them to file refund claims for earlier tax years 2009. Additionally, employees who purchased same-sex spouse health insurance coverage from their employers on an after-tax basis may treat the amounts paid for that coverage as pre-tax and excludable from income.
Now that our marriage is recognized for federal tax purposes, are we legally just like every other married couple?
Unfortunately, no.  Life and estate planning is important for everyone, but it remains especially important for people in same sex relationships — even when they are legally married.  Unfortunately, the Windsor decision in which the United States Supreme Court found section 3 of DOMA unconstitutional does not change this.  A remaining section of DOMA states that each state can set its marriage rules for itself, and that no state has to recognize another state's marriages that offend the first state's public policy.  These concepts, though codified in DOMA, are really a reiteration of long-standing legal principles – states have traditionally been able to set their own rules about who can marry, and have not had to recognize each other's marriages.  (Thanks to Loving v. Virginia this is no longer is true for interracial marriages.)
Read more about the documents and legal steps to consider in Kristen Marcroft's previous post here.
Meghan Freed and Kristen Marcroft publish the Connecticut LGBT Law Project as a resource of legal news and commentary for the Connecticut lesbian, gay, bisexual and transgender community and their friends, families, and allies.
At their law firm, Freed Marcroft LLC, Kristen and Meghan practice estate planning, family, real estate, litigation, business and non-profit planning, and immigration law in the historic Linden building on Main Street in Hartford, Connecticut.  The attorneys' practice is welcoming to all Connecticut individuals, families, and small businesses, especially including same sex couples and members of the lesbian, gay, bisexual, and transgender communities.